Surgeon Benefit
Surgeons partner with PDP to drive their surgical item preference selection process and create value-cost solutions for their patients and hospitals. By harnessing the knowledge, innovation and experience of surgeons, all stakeholders benefit.
Secure control of physician preference item decisions
– Benefit from economic incentives based upon savings derived from
utilization of cost-effective preference items
– Gain participation in lowering the cost of surgical preference items
Become part of the solution. Contact PDP and make it happen »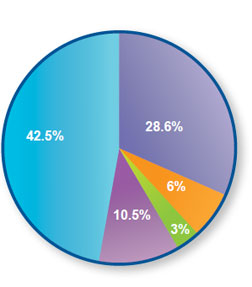 Orthopedic Market:
Spine & Large Joints = $14.5B
Between 40 and 50 percent of what is spent on surgical preference items—over $6 billion annually—is tied to sales, marketing and dis- tribution. With more than 150 manufacturers of knee/hip/spine products competing and a majority of products no longer bound by patent restrictions, competition enables efficiencies previously not available. Through PDP's model, surgeons drive value-cost selection at a fraction of the cost, increasing savings to the patient and payors, while creating an additional efficiency surplus that can be shared among shareholders as an incentive and reward for achieving best practices and high-quality outcomes.